Five Major Machine Learning Trends For 2019 [Infographic]
Machine Learning (ML) is extensively considered as a major factor responsible for driving digital transformation. According to a report titled Machine Learning in 2019: Tracing The Artificial Intelligence Growth Path, ML will reach cumulative investments of $58 billion by the end of 2021.
Here we have analyzed five trends that will shape the future of most prominent and fastest-growing technology 'Machine Learning' in the next few years. 
Machine learning as a service (MLaaS): There is a great likelihood of machine learning being offered as a cloud-based service given its increased incorporation in business applications in recent times. MLaaS providers offer tools including but not limited to data visualization, APIs, natural language processing, predictive analytics and deep learning. Its appeal lies in how it gives customers a jump-start with machine learning without the prerequisite of software installation or providing their own servers. Most top cloud-providers like Microsoft, Amazon and IBM offer machine learning tools and the provider's data centers manage the actual computation. MLaaS is usually offered to developers on a trial basis for assessment before having to commit long-term.
Read More: Are Smart Machines the Future of Manufacturing
Industry growth: ML is currently growing at a CAGR of 42% and is projected to be worth almost $9 billion by the end of 2022 and a whopping $39.98 billion by 2025. This doesn't come as a surprise given today's competitive business environment where machine learning has become increasingly important for the banking, financial services and insurance sector alone – be it risk assessment, approving loans or managing assets. The machine learning industry will also receive a substantial amount in investment that will reach $58 billion by the end of 2021.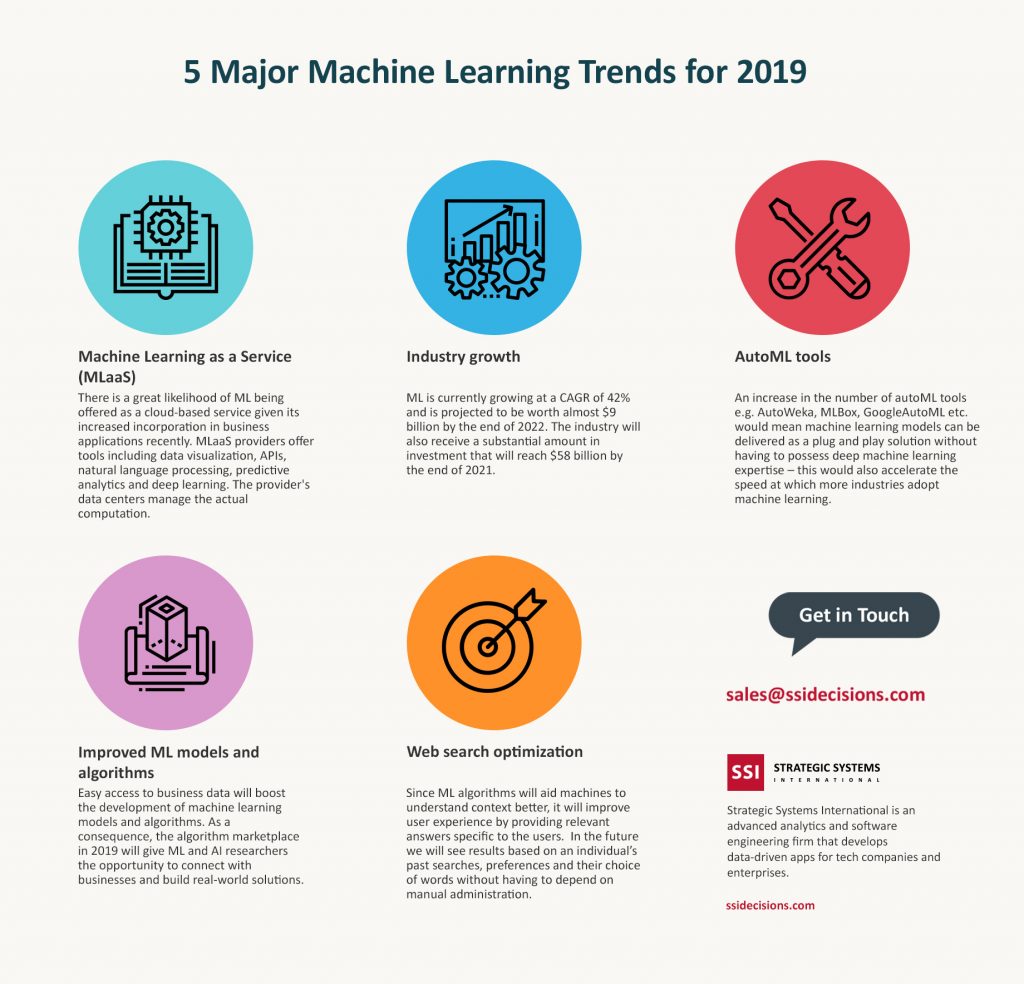 AutoML tools: The increase in number of autoML tools e.g. AutoWeka, MLBox, GoogleAutoML mean machine learning models can be delivered as a plug-and-play solution, accelerating the speed at which more industries adopt machine learning. This also allows data scientists to focus exclusively on their core competencies, relying majorly on autoML and automated deployment tools. Tech giants like Google, staying true to their claim of being an 'AI-first' company are current market leaders with the GoogleAutoML being the first and one of the finest autoML tools.
Read More: The Future Of Computing – Quantums, Qubits and More
Improved ML models and algorithms: The proliferation of business data and easy access to that data will act as a catalyst in boosting the development of machine learning models and algorithms. Given the availability of low cost data storage facilities and AI about to reach maturity shall further aid the process. As a consequence, the algorithm marketplace in 2019 will give ML and AI researchers the opportunity to connect with businesses and build real-world solutions.
Web search optimization: Since ML algorithms will assist machines to understand context better, it will improve user experience by providing relevant answers specific to the users. In the future we will see results based on an individual's past searches, preferences and their choice of words without having to depend on manual administration. Furthermore, Attivio's Chief Product Officer was quoted saying, "We'll also get proactive about alerting people on potential issues before they even happen and provide actionable recommendations to ensure a smooth operation and excellent search experience."
---
Strategic Systems International has a remarkable portfolio of delivering data-driven products and solutions to market and helping fast-growth firms achieve success through software development outsourcing. Please review our success stories here. Contact us for any queries at sales@ssidecisions.com. 
---
Accelerate your digital and product engineering capabilities through remote work!
As companies struggle to maintain business continuity and maintain their digital growth trajectory, we are fully prepared and experienced to partner.