Web 3.0 – Biggest Disruption Yet Or Just Hype?
Web 3.0 is a paradigm shift many are talking about – a complete reinvention of the web. The journey towards a decentralized internet, smarter web search and away from keywords has begun and is said to completely transform user experience with more personalized search results.
Tech needed to enable Web 3.0
Artificial Intelligence

 

to not only apply context to your search and filter out irrelevant results (unlike today where only the most popular search results pop up) for a more personalized web-search experience, it will also change the way developers create websites. You won't even need hosting, servers or other centralized infrastructure to publish your site.
Apart from AI, Web 3.0 will also capitalize on

 

IoT

 

which will enable web 3.0 as the next generation of pervasive search isn't possible without mass connectivity and this is hoped to be resolved within 2019 with 5G and improved data storage solutions. In this, web 3.0 is also connected to spatial computing – another one of the trends for 2019.
Unlike web 1.0 or 2.0 which was limited to computers and smartphones respectively, web 3.0 will be pervasive and will require different interfaces and methods of interaction; mainly voice and possibly even gestures – so it's a good thing there are advancements being made in

 

NLP

 

which will assist us to search the web using our voice. Another key factor is the arrival of the semantic web which advocates open data sharing across apps, communities and businesses. In 2018,

 

Figshare reported on the eminent open data movement that 64% of respondents from the research community had made their data openly available which will also aid the new tech.
Blockchain

 

is another building block for a decentralized internet with continuous advances in

 

peer-to-peer (p2p) technology that will provide a solid cap to the possible accumulation of power and data and protect users over profits. Further, the introduction of distributed consensus protocols has enabled trustless peer-to-peer transactions in places we have previously had to rely on central authorities to hold or transmit data. The big idea here is to utilize new tech including blockchain, IPFS, distributed web to reconfigure the internet into a distributed global computer. Blockchain is rightfully considered a driving force for the new internet as it provides crucial protocols and cryptography for the aforementioned globally distributed network of computers.
Matteo Gianpietro Zago, in his article "why the web matters and you should know about it" listed these platforms, frameworks, browsers, wallets that we'll be using widely in the next three years.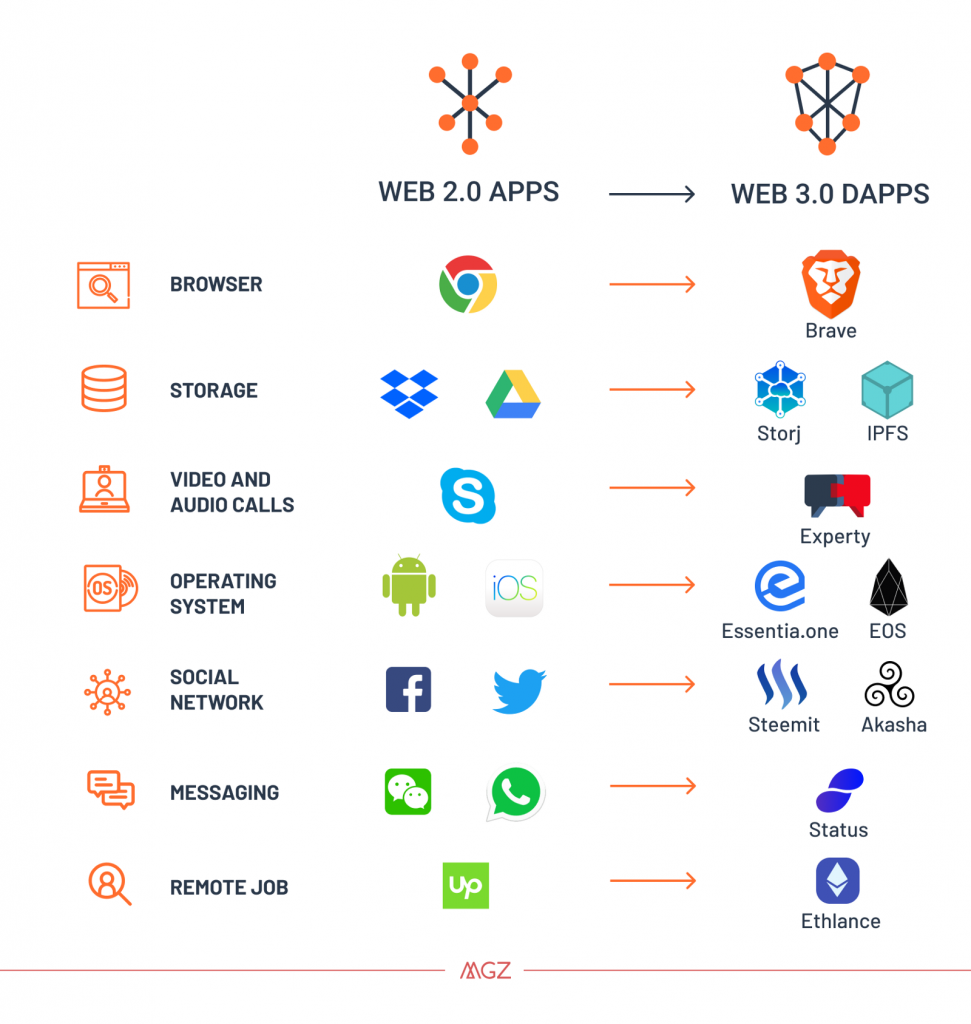 (Image Source: Matteo Gianpietro Zago)
The need for 3.0
What many of us don't know is that the original internet was always meant to be decentralized – the developers envisioned a distributed system of computers communicating with each other but today's internet has drifted away from this vision and is dependent on large corporations to store and distribute information resulting in prominent breaches of trust like the recent case of Cambridge Analytica's deceitful use of Facebook data in the last US elections. This reiterates the importance of having a decentralized internet to give privacy and control back to users and ensure protection against hackers as they cannot access 3.0 accounts due to lack of centralized databases.
Because currently, the user has been turned into the product to drive revenue by either selling our data or offering advertising that is subtly targeted to influence our thoughts and decisions. While Web 2.0 has given us some excellent platforms that have created a P2P economy with a sophisticated content discovery system – they still dictate all rules of transactions. Ryan Zurrer said, "2.0 has failed because it is dominated by a small cartel of companies that control 100% of users' data and will commercialize it as they see fit" and the end-user does not benefit from this kind of web monetization.
Is it achievable?
For all its perks of being attack-resistant and more fault-tolerant, decentralized web architectures are slower and not suited to all business tasks – there are possible scalability issues too. Also, the role of central authorities cannot be completely shunned as they currently support critical components of the web like server hosting, DNS services, email, social media etc and even after a full launch of web 3.0, centralized systems will prevail for specific use cases. This is why the transition from today's internet to web 3.0 will be gradual instead of radical. But with companies like Web3 Foundation working to redistribute power and wealth on the internet, its founder says they will actually 'move the needle' as far as developing a better version of the internet is concerned.
---
Strategic Systems International has been continuously helping companies with their digital transformation and migration of their services to the cloud. Explore our success stories here. Talk to a representative today to learn more about our services.
---
Accelerate your digital and product engineering capabilities through remote work!
As companies struggle to maintain business continuity and maintain their digital growth trajectory, we are fully prepared and experienced to partner.